Apple Cinnamon Oatmeal Cookies are deliciously chewy, healthful cookies bursting with the tastes of fall: oats, juicy apples, and cinnamon!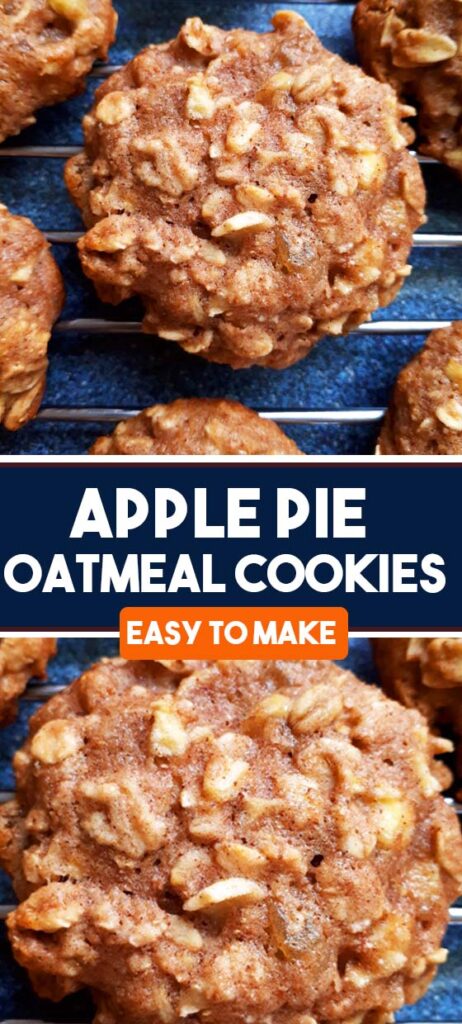 Apple Cinnamon Oatmeal Cookies Recipe
If you like oatmeal cookies and cinnamon, you're going to love these Apple Cookies! They're a no-fuss cookie that doesn't require any frosting or icing because they're excellent exactly the way they are. Because the dough needs to cool, you can make it the day or night before and then bake the cookies whenever the craving strikes!
How To Make These Cookies
Only 15 minutes in the oven and roughly 30 minutes of chilling time help to give it the desired soft, chewy texture.
Can I freeze oatmeal apple pie cookies?
Once totally cool, place the cookies in a freezer-friendly plastic zip-top bag or an airtight container and freeze for up to a month.
How should I store them?
Retain cookies in an airtight jar for up to 3-4 days to keep moisture in.
More Recipes You May Like
Apple Cinnamon Oatmeal Cookies
Course: Dessert, Snacks
Cuisine: American
These Apple Cinnamon Oatmeal cookies are perfect for a Fall dessert!
Ingredients
1 1/4 cup all-purpose flour (177g) (scoop and level to measure)

1 1/4 cup rolled old fashioned oats (120g)

1/2 teaspoon baking soda

1 teaspoon cinnamon powder

1/4 teaspoon salt

3/4 cup packed light brown sugar (160g)

1/2 cup (113g) softened unsalted butter

1 tablespoon vanilla extract

1 large egg

1 cup (120g) peeled granny smith apple, finely chopped (1/4-inch cubes or smaller)

2 teaspoons fresh lemon juice
Directions
Preheat the oven to 350 degrees Fahrenheit. Use silicone baking mats or parchment paper to line two 18-by-13-inch baking pans.
Set aside for 20 seconds while you whisk together the flour, oats, cinnamon, baking soda, and salt in a mixing dish.
Cream together butter and brown sugar in a mixing bowl fitted with the paddle attachment of an electric stand mixer until combined. Mix in the egg and vanilla extract.
In a small bowl, combine apples and lemon juice. Mix the flour mixture into the egg and vanilla mixture until mixed, then fold in the apples.
Scoop out dough with a medium cookie scoop or 2 tablespoons at a time and place on prepared baking sheets, placing cookies 2-inches apart. Slightly flatten them.
Bake one sheet at a time in a preheated oven for 14 to 15 minutes, or until cookies are set.
Allow several minutes on the baking sheet before transferring to a wire rack to cool fully. Cookies should be kept in an airtight container.