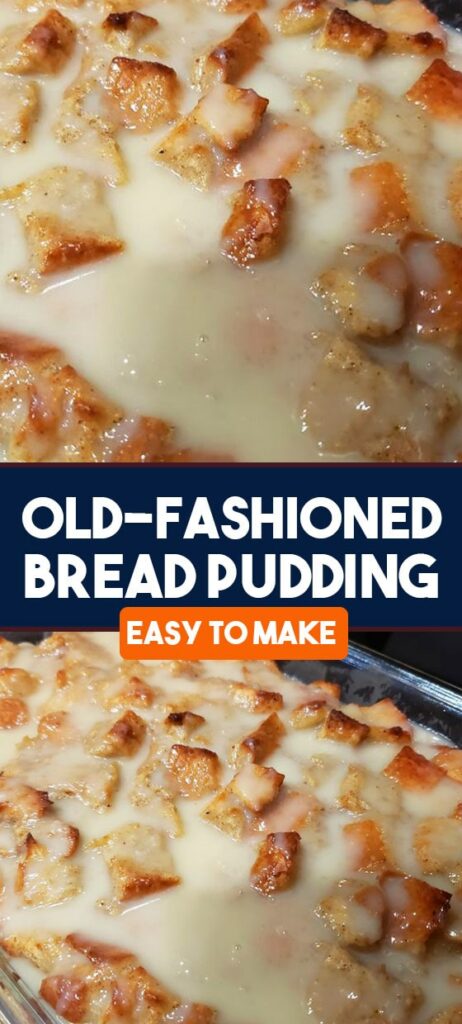 This Easy Bread Pudding with Vanilla Sauce Recipe will fulfill your sweet taste perfectly! Stale bread is transformed into a delectable dessert steeped in vanilla sauce in this sweet and creamy delicacy.
Bread Pudding Recipe: The BEST old-fashioned bread pudding recipe! It reminds us of an old-fashioned dessert dish we all enjoy!
How To Make Bread Pudding
It's really easy to make the best-ever Bread Pudding. Bread cubes are simply soaked in an egg, sugar, and milk mixture before being baked. To make it extra exceptional, mix with bourbon-soaked raisins and spices.
This bread pudding dish is quite simple to prepare. Just a few ingredients to chop and combine, and it's ready to bake.
Bread Pudding with Vanilla Sauce
Course: Dessert
Cuisine: American
Old-Fashioned Bread Pudding with Vanilla Sauce Recipe
Ingredients
Pudding

1/2 cup raisins

4 cups cubed white bread (about 8 pieces)

1/2 cup sugar

2 gently beaten eggs

1/4 cup butter

2 cups milk

1 teaspoon vanilla extract

1/2 teaspoon nutmeg powder

Sauce

1/2 cup sugar

1/2 cup brown sugar, tightly packed

1/2 cup heavy whipping cream

1/2 cup butter

1 teaspoon vanilla extract
Directions
PUDDING:
Preheat the oven to 350 ℉.
In a large mixing bowl, combine the bread and raisins.
Combine milk and 1/4 cup butter in a 1-quart pot. Cook, stirring occasionally until the butter has melted, approximately 3 to 5 minutes.
Allow 10 minutes for the milk mixture to soak into the bread.
Combine all of the remaining pudding ingredients
Fill a buttered 1 1/2-quart casserole
bake for 35–50 minutes, or until the center is set.
SAUCE:
In a 1-quart saucepan, mix together all of the sauce ingredients except the vanilla.
Cook, stirring periodically, over medium heat until the mixture thickens and reaches a full boil, 3 to 5 minutes. Vanilla should be added at this point.
The warm pudding should be spooned into separate dessert plates and served with sauce.
Refrigerate any leftovers.