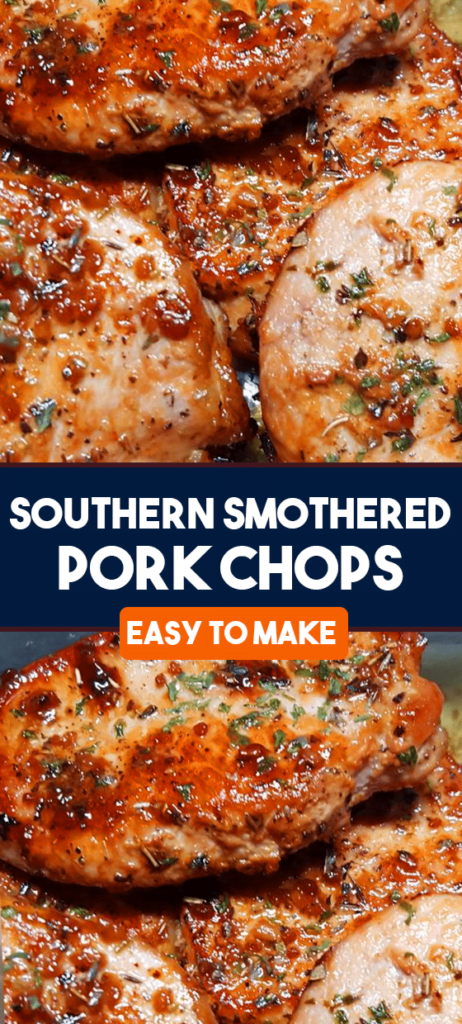 Smothered Pork Chops Is a quick and easy recipe for boneless pork chops with a creamy mushroom sauce on top! Simple, cozy, and delectable.
Smothered Pork Chops are a traditional American dish that is simple to prepare and rich of flavor. Pork chops are smothered in a flavorful sauce made with onions and mushrooms. It's fantastic!
Smothered Pork Chops are lightly breaded, pan-fried, then drowned in a creamy, savory pan sauce that's simple to make. This is one of our favorite meals and the epitome of Southern comfort food.
Southern Smothered Pork Chops
Course: RECIPES
This weeknight dinner is a classic Southern recipe. We keep returning back to it, not only because it's tasty, but also because it's very simple to make!
Ingredients
4 tablespoons butter

1 thinly sliced and quartered onion

4 minced garlic cloves

4 tablespoons flour (all-purpose)

2 cups beef broth

1/2 cup baby Bella mushrooms, sliced, or more to taste

1 tablespoon fresh parsley, chopped

4 pork chops, center-cut

1/2 tsp salt (or to taste)

1/4 teaspoon black pepper powder, or to taste
Directions
In a 3-quart saucepan over medium-low heat, melt the butter.
Cook, turning occasionally, until the onion and garlic are browned, about 7 to 10 minutes. Remove the onion and garlic from the pan and set them aside.
Slowly stir flour into butter. Cook, stirring constantly, until the flour is a deep brown color, about 7 to 10 minutes.
Remove from the heat. Stir in the broth gradually.
Place the onion, garlic, mushrooms, and parsley in a large mixing bowl.
Bring to a boil, continually stirring. Remove from the heat.
Cook over medium-high heat in a large skillet coated with cooking spray.
Season pork chops with pepper and salt and cook for 5 to 7 minutes per side in a heated pan.
Pour in the gravy from the saucepan.
Cook, covered, over low heat for 30 to 40 minutes, or until soft and no longer pink in the center.
In the center, an instant-read thermometer should read 145 degrees F. (63 degrees C).