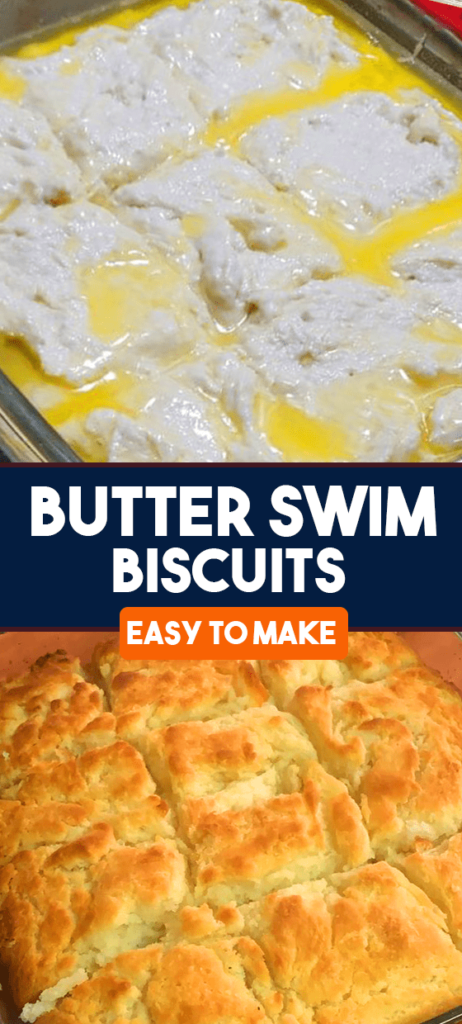 Buttery Buttermilk Biscuits are the simplest biscuits to make at home. There's no need for a biscuit cutter! Buttery, thick, and fluffy! Heavenly!
Buttermilk biscuits are soaked in butter before baking, resulting in a biscuit with a crunchy top and a soft and fluffy interior.
Butter Swim Biscuits
Course: Sides
Cuisine: American
These pan-style Butter Swim Biscuits are light, fluffy, and oh so buttery, plus they're really easy to make. 
Ingredients
1/2 cup butter (salted) a single stick

2 1/2 cup flour, all-purpose

1/2 tablespoons sugar, granulated

1 tablespoon baking powder (aluminum-free)

1/2 teaspoon salt

 3/4 cup buttermilk
Directions
Preheat oven to 450F degrees.
Melt a stick of butter in the microwave in a microwave-safe bowl (or in the baking dish you'll be baking these in if it's microwave-safe).
In an 8×8 baking dish, melt the butter.
Combine the flour, sugar, baking powder, and salt in a medium mixing basin.
Pour the buttermilk into the pan. Stir until you have a loose dough. The batter will be a little runny.
Fill a baking dish halfway with biscuit dough (right on top of the melted butter.) It's absolutely fine if some of the butter runs over the top of the dough.
Make 9 squares out of the dough. This will also aid with cutting after they're finished.
Bake for 20-25 minutes, rotating the dish once throughout the baking time.
Because different ovens have different hot zones, baking times vary, but The tops of the biscuits should be golden brown and spring back when touched.