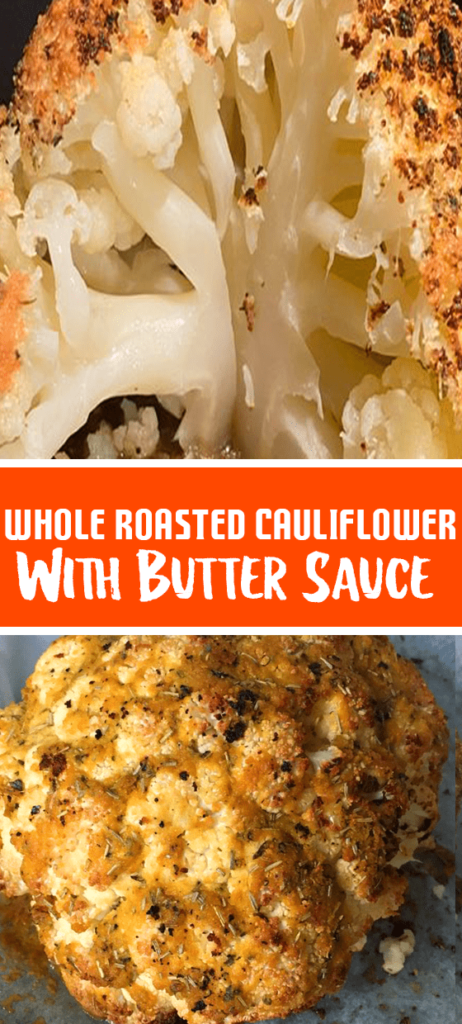 This whole roasted cauliflower is a fantastic low-carb and keto side dish. Learn how to roast a whole head of cauliflower in just 5 minutes that tastes amazing and is really simple to prepare.
A garlic herb sauce coats this whole roasted cauliflower. An easy and delicious It's a great way to add some nutrition to your dinner table.
Whole Roasted Cauliflower is a dish that looks magnificent but is actually rather simple to prepare. Bake an entire cauliflower head in the oven, seasoned with a garlic and herb butter sauce and topped with Parmesan cheese, to save time.
whole roasted cauliflower Recipe
Course: RECIPES
This full roasted cauliflower comes to life with just a few pantry ingredients. Make this garlicky, buttery dish for a quick evening meal or to impress guests.
Ingredients
1 medium-sized cauliflower head

2 tablespoons melted unsalted butter

2 tablespoons avocado oil or olive oil

3 tablespoons Parmesan cheese

1 teaspoon seasoning (Italian)

3 garlic cloves, minced

2 tablespoons freshly chopped fresh parsley

1/2 teaspoon salt, to taste

1/4 teaspoon pepper (to taste)
Directions
Preheat oven to 400°F/ 200C.
Cauliflower Preparation – Carefully cut and remove the cauliflower's bottom leaves with a sharp knife.
As much of the thick white stem as feasible should be removed.
Combine the melted butter, oil, minced garlic, Italian Seasoning, salt, and pepper in a small bowl.
In a dutch oven or on a baking dish, place the cauliflower core side down.
Using a basting brush, spread the butter sauce all over the cauliflower.
Cook for 30 minutes in a preheated oven with aluminum foil or parchment paper covering the cauliflower head.
Bake for another 10-20 minutes after removing the foil.
Add 1-2 tablespoons of parmesan cheese
Preheat the oven to high broil and roast the cauliflower for 3-5 minutes, or until it begins to brown.
Serve with your favorite protein and extra fresh parsley on top. Enjoy!
If you want a bit more heat, use a Taco Seasoning Blend instead of Italian Seasoning or add a few red pepper flakes.
Remove the butter and replace it with olive oil for a vegan entire roasted cauliflower.
Two tablespoons of nutritional yeast can easily be substituted for parmesan.