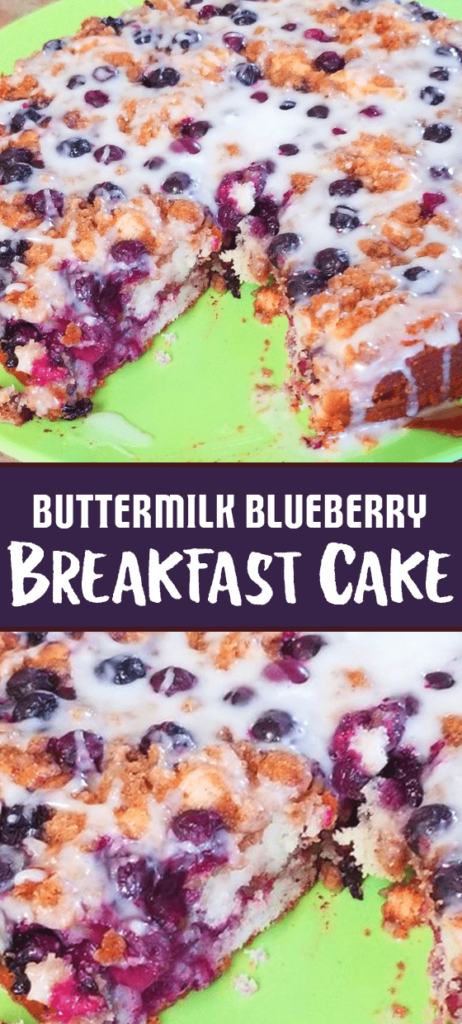 Breakfast cake made with blueberries and buttermilk is simple to make. It's moist, buttery, and packed with fresh blueberries on the inside.
INGREDIENTS
1/2 cup (4 oz | 113 g) (8 tablespoons) room temperature unsalted butter
1 large lemon's zest
1 cup sugar (214 g) (set aside 1 tablespoon for sprinkling)
1 room temperature egg
1 teaspoon vanilla
2 cups (256 g) 1/4 cup all-purpose flour (put aside to combine with the blueberries)
2 teaspoons baking powder
kosher salt, 1 tsp (I like 1.25 tsp)
2 cups blueberries, picked
½ cup buttermilk,
INSTRUCTIONS
Preheat the oven to 350ºF.
Cream the butter, lemon zest, and 1 cup minus 1 tablespoon of sugar in a stand mixer or hand-held mixer until light and fluffy.
Mix in the egg and vanilla until everything is well mixed.
In the meantime, toss the blueberries with ¼ cup of flour, then combine the remaining flour, baking powder, and salt in a mixing bowl.
Half of the flour mixture should be added to the batter and stirred in with a spatula.
Pour in the entire amount of buttermilk. Stir. Stir in the remaining flour until it is completely absorbed.
Add the blueberries and fold them in. (Set aside any excess flour from the blueberry basin.)
Butter or nonstick spray an 8- or 9-inch square baking pan (or something similar—I prefer this 8-inch pan since I enjoy the thicker pieces).
Line the pan with parchment paper over the butter if you have any on hand.
Pour the batter into the pan and spread it out evenly. Add the remaining tablespoon of sugar to the batter.
Bake for 35 to 45 minutes, depending on the size of the pan. A 9-inch pan will take closer to 35 minutes, while an 8-inch pan will take 40 to 45 minutes. Check for doneness with a toothpick.
Return the pan to the oven for a few more minutes if necessary.
Just be patient; it's not uncommon for this cake to take 50 minutes.)
Allow at least 15 minutes for cooling before serving.