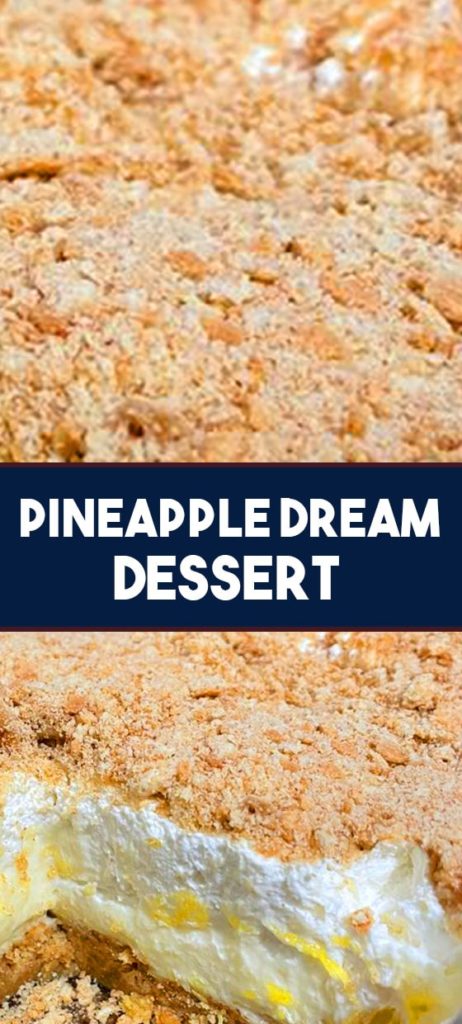 With a cream cheese layer, graham cracker crust, and light whipped cream, this Pineapple Dream Dessert is a wonderfully quick dessert that takes just minutes to put together! One of my family's favorite desserts is the pineapple dream.
This Pineapple Dream Dessert is a light, fluffy, and delectable dessert that's suitable for almost any occasion. It's a quick and easy dessert with a graham cracker crust, cream cheese layer, and light whipped topping!
Pineapple Dream Dessert
Course: Dessert
Cuisine: American
Pineapple Dream Bake Cool, creamy, and refreshing, this coconut-topped dessert is ideal for summer.
Ingredients
Crust:

2 1/2 cups crushed graham crackers a pair of sleeves

1/2 cup unsalted butter

Layers:

2 cups sifted powdered sugar

1/2 cup softened unsalted butter

4 ounces softened cream cheese

8 ounces fat-free Cool Whip

20 ounces pineapple, smashed and drained
Directions
Preheat oven to 300 F.
Allow butter to cool once it has been melted in the microwave. Toss the crumbs and butter together until fully combined.
Bake for 8-10 minutes, pressing 2 cups of the crumb mixture firmly into a 9×9 square pan. Allow to cool on a wire rack.
Cream together the cream cheese and butter until smooth. Reduce the speed of the mixer to low and gradually add the powdered sugar, one cup at a time, until fully combined.
Turn up the volume and beat hard for about a minute. With a rubber spatula, mix in a heaping tablespoon of the drained pineapple. Cover the crust with the cream cheese and pineapple filling.
Spread the leftover pineapple on top of the cream cheese mixture after folding in the Cool Whip.
On top, strew the remaining graham cracker crumb mixture. Refrigerate for at least 4 hours before serving.