Lemon Blueberry Muffins are delicious baked treats made with fresh blueberries and lemon zest. They have a soft and tender texture, and the combination of blueberries and lemon creates a delightful burst of flavor. These muffins are perfect for breakfast, as a snack, or for satisfying your sweet cravings.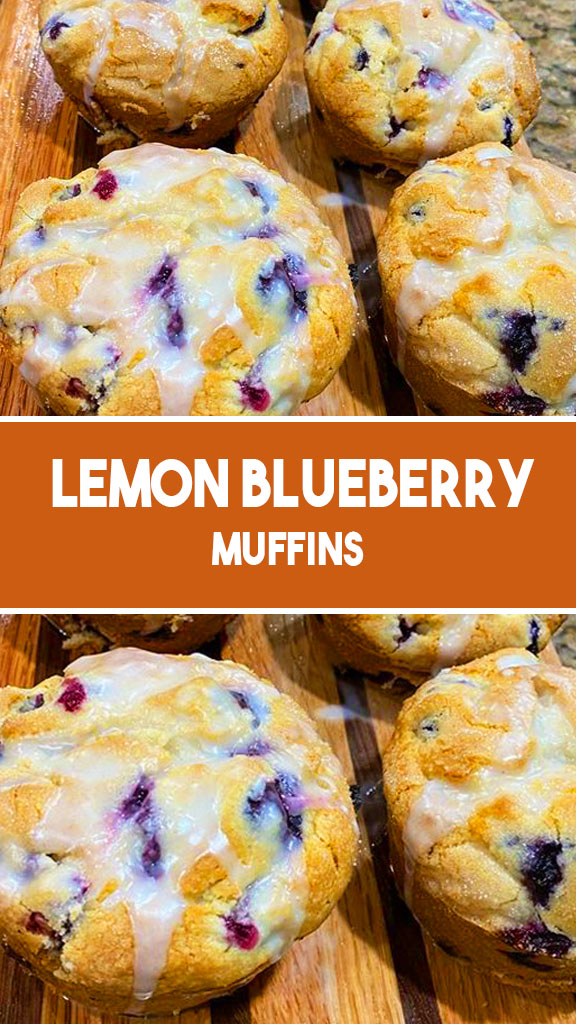 How to Create the Perfect Tall Muffin Tops:
Creating tall and perfectly domed muffin tops can be achieved by following these tips:
Preheat the oven to the right temperature: Make sure your oven is properly preheated to the specified temperature in the recipe. A hot oven helps the muffins rise quickly and create those beautiful domes.
Avoid overmixing: Mix the batter until the ingredients are just combined. Overmixing can lead to tough muffins with flat tops.
Use fresh baking powder and baking soda: Ensure that your leavening agents are fresh and within their expiration date. Old baking powder and baking soda can result in muffins that don't rise properly.
Fill the muffin cups appropriately: Fill the muffin cups about 3/4 full. This allows enough space for the muffins to rise without overflowing.
Start with a higher temperature: To encourage a rapid initial rise, you can start baking the muffins at a slightly higher temperature (e.g., 425 degrees F/220 degrees C) for the first 5 minutes and then reduce it to the recipe's recommended temperature for the remaining baking time.
Use the right ingredients: Make sure you are using the correct measurements and ingredients as stated in the recipe.
Why You'll Love These Lemon Blueberry Muffins:
These Lemon Blueberry Muffins have several irresistible qualities that will surely win you over:
Bursting with Flavor: The combination of zesty lemon and sweet blueberries creates a delightful flavor profile that's both refreshing and satisfying.
Moist and Tender: The addition of butter, vegetable oil, and milk in the batter ensures these muffins stay moist and tender.
Perfect Texture: The muffins' texture is just right – soft and fluffy on the inside with a slightly crisp and golden exterior.
Ideal for Any Occasion: Whether for breakfast, brunch, or a snack, these muffins are a versatile treat suitable for any time of day.
Appealing Aroma: The aroma of freshly baked lemon blueberry muffins is irresistible and inviting.
Easy to Make: This recipe is straightforward and easy to follow, making it accessible for both beginner and experienced bakers.
Great for Sharing: These muffins are perfect for sharing with friends and family, bringing joy to any gathering or event.
LEMON BLUEBERRY MUFFINS
Course: Breakfast, Dessert
Cuisine: American
Ingredients
Zest of 2 lemons

1/2 cup granulated sugar

1 ½ teaspoons baking powder

1/4 teaspoon baking soda

1 teaspoon cinnamon

3/4 teaspoon salt

2 ⅔ cups all-purpose flour

1/4 cup butter, softened

1/4 cup vegetable oil

1/3 cup light brown sugar

2 large eggs

1 teaspoon vanilla extract

1 cup milk

1 ⅓ cup fresh blueberries

For the Glaze:

3 tablespoons butter, melted

1 cup confectioners' sugar, sifted

1/2 teaspoon vanilla extract

1 tablespoon lemon juice

1 tablespoon hot water
Directions
Preheat your oven to 425 degrees F (220 degrees C). Line a 12-cup muffin tin with muffin liners or grease with nonstick cooking spray.
In a small bowl, combine the lemon zest and granulated sugar. Use your fingertips to rub the zest into the sugar until it becomes moist and fragrant.
In a separate small bowl, whisk together the baking powder, baking soda, cinnamon, salt, and all-purpose flour. Set this dry mixture aside.
In the bowl of a stand mixer fitted with the paddle attachment, beat the softened butter, lemon sugar, and brown sugar on medium-high speed until the mixture is light and fluffy (approximately 2 minutes).
Add the eggs, one at a time, along with the vanilla extract and vegetable oil. Beat until just combined.
Gradually add the dry flour mixture to the wet ingredients, alternating with the milk. Start and end with the flour, and mix until just combined. Be careful not to overmix, as it can make the muffins tough.
Gently fold in the fresh blueberries into the batter.
Divide the muffin batter equally among the prepared muffin cups, smoothing the tops with a spoon.
Bake the muffins in the preheated oven for 15 to 17 minutes, or until the tops are a pale golden color and springy to the touch. Rotate the muffin tin halfway through the baking time for even baking.
Allow the muffins to cool in the muffin tin for 5 minutes, then transfer them to a wire rack and cool for an additional 10 minutes before glazing.
To prepare the glaze, mix together the melted butter, sifted confectioners' sugar, vanilla extract, lemon juice, and hot water in a medium bowl. Whisk until the glaze is smooth and well-combined.
Once the muffins have cooled slightly, dip the muffin crowns into the glaze, allowing it to set. After the first coating hardens, dip them a second time for a thicker glaze layer.
Serve and enjoy your delightful Lemon Blueberry Muffins!