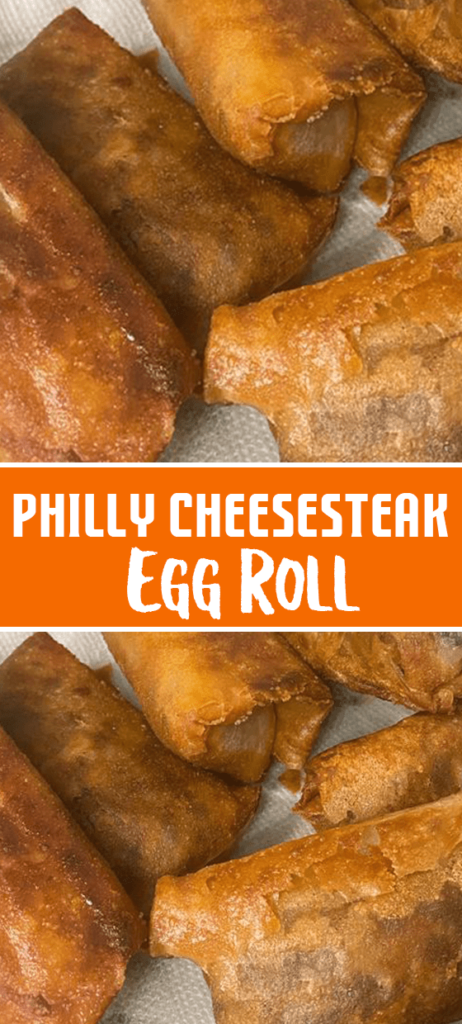 These steak and cheese egg rolls are a great party snack! They're a classic Philly Cheesesteak wrapped in crispy wontons. Tender steak, green peppers, onions, and creamy cheese are wrapped in bacon and deep-fried to perfection.
In time for Super Bowl Sunday, here's a recipe for Philly Cheesesteak Egg Rolls. This is one of the best appetizers I've ever had, and it tastes phenomenal! This is probably my favorite Sunday Football Appetizer Recipe!
Philly Cheesesteak Egg Roll
Course: Appetizers
Cuisine: American
Your new favorite appetizer is about to be these Philly Cheesesteak Egg Rolls. You'll be chowing down on this simple meal, which is full of flavor and taste.
Ingredients
12 Wrappers for Egg Rolls

Sirloin Steak, 1 1/2 Pounds (cut into small pieces)

2 tblsp. extra virgin olive oil

2 peppers (bell) (sliced)

1 onion (sliced)

2 jalapeno peppers (chopped)

Button Mushrooms, 1 CUP (sliced)

1 teaspoon salt

1/2 Teaspoon Pepper

Provolone cheese, 2 cups (Shredded)

a single egg

Frying using Canola Oil
Directions
In a large skillet, heat the olive oil and add the peppers and onions.
Cook for 5 minutes, or until the onions are transparent and the peppers are softening.
Cook for another 3-5 minutes after adding the mushrooms, jalapenos, salt, and pepper.
Add the steak and cook for another 5 minutes, or until the meat is medium rare.
Allow to cool after removing from the heat.
In a food processor, combine all of the cooked ingredients and cut into very small pieces.
In a medium to large sauce pan, heat the canola oil until it reaches 350 degrees.
Meanwhile, spread a hefty pinch of cheese on the egg roll wrappers and top with a scoop of the steak mixture.
Seal the egg rolls with egg wash and roll them up according to the package instructions.
Fry the egg rolls for 2-4 minutes on each side, turning them over halfway through.
Remove and serve it.