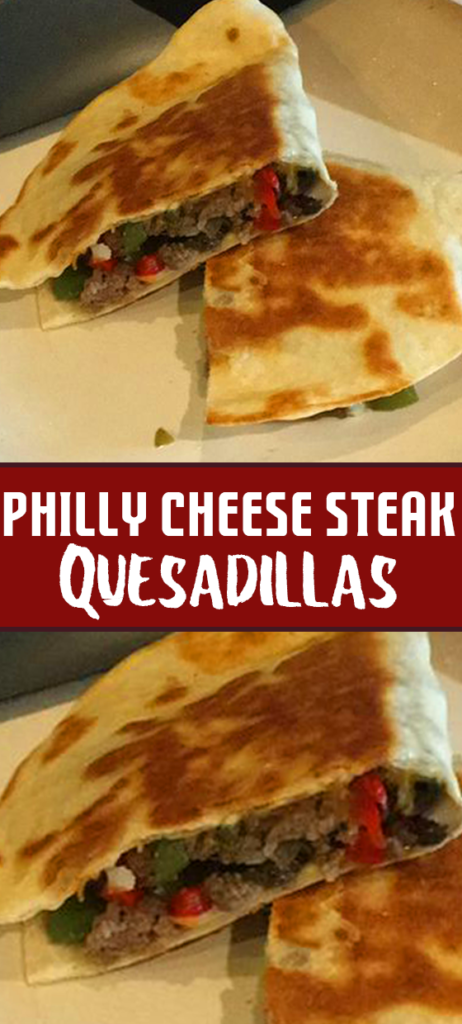 Melted provolone cheese, soft crisp onions and peppers, fresh mushrooms, and seared steak slices fill these Philly Cheese Steak Quesadillas.
These Philly Cheese Steak Quesadillas are the epitome of comfort food! You can dip them in salsa for added taste, or serve them with sour cream. I prefer to make these quesadillas with onions, peppers, and mushrooms. If you don't like mushrooms, you can leave them out.
Ingredients
butter
oil made from vegetables
1 sliced onion
1 sliced green bell pepper
1 1/4 tsp. seasoned salt (distributed)
1⁄2  teaspoon of pepper, split
2 sirloin or rib-eye steaks, thinly sliced
1 teaspoon spice for steak
4 ounces sliced mushrooms
4 flour tortillas, large
1 package provolone cheese, thinly slice
Instructions
In a large skillet, melt 1 tablespoon butter and 1 tablespoon vegetable oil over medium-high heat.
3/4 teaspoon seasoned salt and 1/4 teaspoon pepper on onion and peppers.
Cook for 6 to 8 minutes on a hot pan with onions and peppers. Put everything in a bowl and set it aside.
Add a bit of additional oil to the pan if necessary. Preheat the oven to medium-high. Add 1/2 teaspoon seasoned salt, 1 teaspoon steak seasoning, and 1/4 teaspoon pepper to the steak.
Cook the steak until it is charred on both sides, about 1 to 2 minutes per side. Cook the steak for a few minutes longer if you prefer it well done. Combine the steak, onions, and peppers in a mixing bowl.
Cook the mushrooms using 1 tablespoon of butter until browned. Add the meat, onions, and peppers to the bowl.
Clean the pan. 1 teaspoon oil and 1 teaspoon butter in the pan for each quesadilla Place on a medium heat setting.
Place roughly 3 pieces of cheese on one half of each tortilla for each quesadilla. Top cheese with appropriate amount of steak, onion, and pepper mixture. Fold the tortilla in half and layer three more slices of cheese on top of the filling.
Cook until brown and crispy on both sides in a hot pan. Continue with the remaining tortillas.