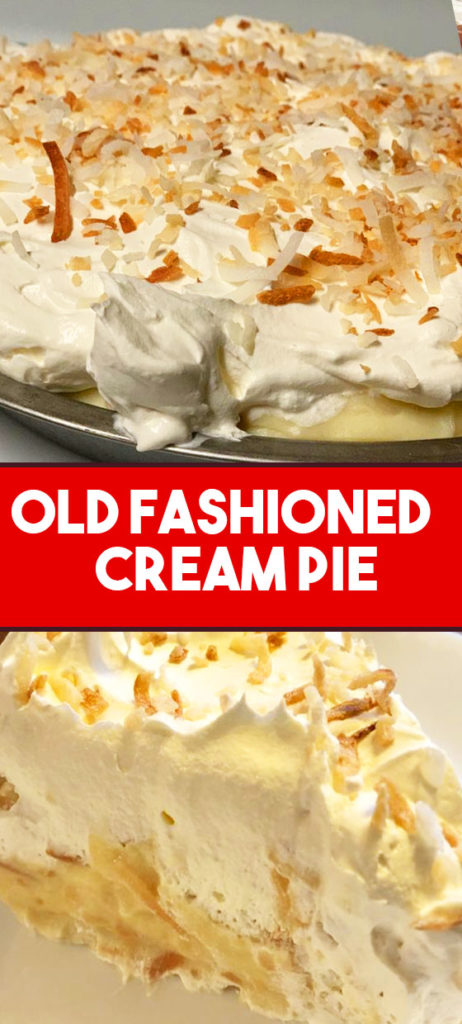 The best finale to any dinner is an Old Fashioned Coconut Cream Pie! It is, without a doubt, the greatest coconut pie we have ever tasted.
BEST Old Fashioned Coconut Cream Pie
This is my go-to recipe for a traditional coconut cream pie. It's the tastiest coconut cream pie you'll ever have, with a light and fluffy top and a luscious creamy bottom.
You're missing out if you've never tried coconut cream pie. The flavors are really incredible, and the texture is silky smooth, and creamy.
Old Fashioned Coconut Cream Pie
Course: Dessert
Cuisine: American
This Old Fashioned Coconut Cream Pie is creamy, sweet, and full of coconut flavor, and it's a heritage recipe that transforms a few basic ingredients into a masterpiece!
Ingredients
1 9-inch deep-dish pie shell (or 2 regular-size pie shells) baked

3/4 cup sugar

flour (1/2 cup)

salt (1/4 teaspoon)

3 cups milk (whole or half-and-half) (or a combination)

3 beaten large egg yolks

2 teaspoons vanilla extract

2 tablespoons softened butter

1 1/2 cups flaked coconut, with a little more for decoration

1 tub whipped topping (8 oz) (or prepared whipped cream)

Optional garnish: toasted coconut
Directions
Bake the pie shells according to the package directions. On a wire rack, cool fully.
Whisk together the flour salt, and sugar in a 2-quart nonstick pot. 1 cup of milk, whisked in gradually
Whisk in the remaining milk and beaten egg yolks until well combined.
put the saucepan in an ice and water sink and whisked it periodically until the contents was cold and thick.
Toss in the coconut and mix well. Fill the cooled pie shell/shells with the filling. Whipped topping/whipped cream is served on top.
Toast approximately a third cup of coconut in a small pan over medium-high heat, turning regularly, until lightly toasted. Remove the pan from the heat.
Spread it out on a small plate and freeze for a few minutes before sprinkling it over the top of the pie. Before cutting the pie, chill it for 3-4 hours.