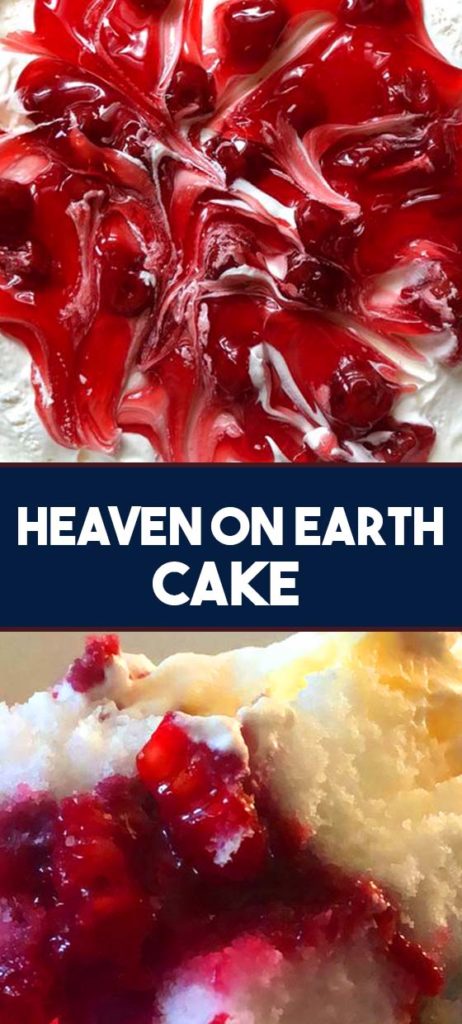 This heaven on earth cake is creamy, luscious, and full of delectable cherries and cream. When you're wanting something sweet, make this delicious dessert.
For a sumptuous dessert, heaven on earth cake is filled with cherries, pudding, and angel food cake. It comes together fast to make a spectacular cake.
Easy Heaven on Earth Cake Recipe
This heaven on earth cake is a delectable treat that will transport you to an endless state of joy. It's light as air, cold and creamy.
How to make Heaven on Earth Cake
It's actually rather simple to prepare, but even simpler to consume. It's a tiered dessert that's creamy and delicious to eat.
This recipe combines angel food cake and a creamy pudding blend in the most delicious way. It's incredibly tasty and gorgeous thanks to the cherry pie filling.
Heaven On Earth Cake
Course: Dessert
Cuisine: American
Ingredients
1-2 angel food cakes (store-bought or handmade)

1 instant vanilla pudding mix (3.4 oz.)

1 1/2 cups milk

1 cup Greek yogurt, plain

1 can cherry pie filling (21 oz.) divided

1 container (8 oz.) thawed frozen whipped topping

garnish with almond slivers, if desired (toasted, optional)
Directions
Cut the angel food cake(s) into small cubes.
Whisk together the pudding mix and cold milk in a large mixing basin, then stir in the greek yogurt until smooth and blended.
In a 9×13-inch baking dish, put 1/2 of the cake cubes in an equal layer, then cover with 2/3 of the cherry pie filling.
Place the remaining cake pieces on top, then pour the pudding mixture over the cake and carefully smooth it out into an equal layer.
Spread frozen whipped topping over the pudding layer using a rubber or offset spatula, then drizzle with leftover cherry pie filling and slivered almonds.
Refrigerate the baking dish for at least 3 hours, or overnight.