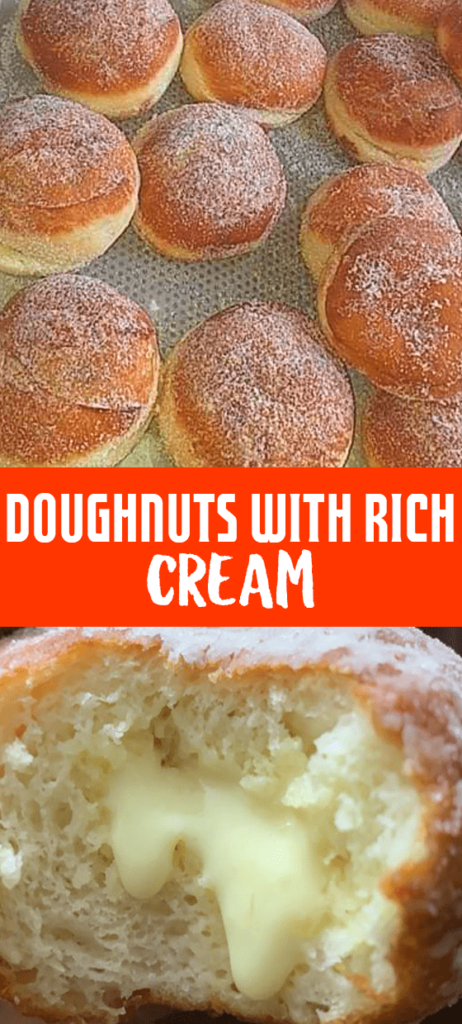 A recipe for sweet yeasted doughnuts with light vanilla cream filling and tossed in sugar.
not too fatty brioche doughnuts with delicious vanilla cream. Inside is soft, light, and loaded with the most delectable vanilla cream.
Ingredients
2/3 ounce fresh cake yeast or 1 packet (2 1/2 teaspoons) active dried yeast
2/3 cup room temperature milk
3 1/2 cups all-purpose unbleached flour, plus more for the baking sheet
a 1/3 cup of sugar
2 tsp coarse sea salt
3 eggs (big)
7 tbsp unsalted butter, room temp, cut into 6 to 8 pieces
Canola oil is ideal for frying.
heavy cream (six tablespoons)
Chilled pastry cream
Directions
Combine yeast and milk in the bowl of an electric mixer fitted with the dough hook attachment; let rest for 1 minute or until yeast is dissolved.
Mix flour, 1/3 cup sugar, salt, and eggs on low speed for 1 minute, or until dough comes together. Continue mixing on low for another 2 to 3 minutes.
5 to 6 minutes after butter is fully mixed and dough is pliable, add a few pieces at a time, mixing after each addition.
Remove the dough from the bowl and wrap it in plastic wrap tightly. Refrigerate for at least 6 and up to 15 hours before serving.
Set aside a baking sheet that has been lightly floured. Roll out dough into a 12-inch square on a well-floured work surface, about 1/2 inch thick.
Cut 9 doughnuts with a 3 1/2- to 4-inch round biscuit cutter. Transfer to prepared baking sheet and cover with plastic wrap; set aside in a warm place for 2 to 3 hours, or until they've doubled in height and feel poufy and pillowy.
Fill a large heavy-bottomed saucepan halfway with oil and heat over medium-high heat until a deep-fry thermometer reads 350 degrees.
Place doughnuts in the hot oil in batches, being careful not to crowd them.
Cook until golden brown on one side, 2 to 3 minutes; flip and fry until golden brown on the other side, 2 to 3 minutes more.
Transfer doughnuts to a paper towel-lined baking sheet with a slotted spoon until cool enough to handle.
In a separate bowl, put the remaining cup of sugar.
Toss doughnuts in sugar one at a time to make sure they're equally coated.
Return doughnuts to baking sheet lined with paper towels to cool entirely, about 30 to 40 minutes.
Meanwhile, whip heavy cream until firm peaks form in the bowl of an electric mixer fitted with the whisk attachment.
Fold in the pastry cream gently; the filling should make 3 cups.
Set aside and transfer to a pastry bag fitted with a small round tip.
After poking a hole in the side of each cooled doughnut and filling it with about 1/3 cup filling, serve immediately.