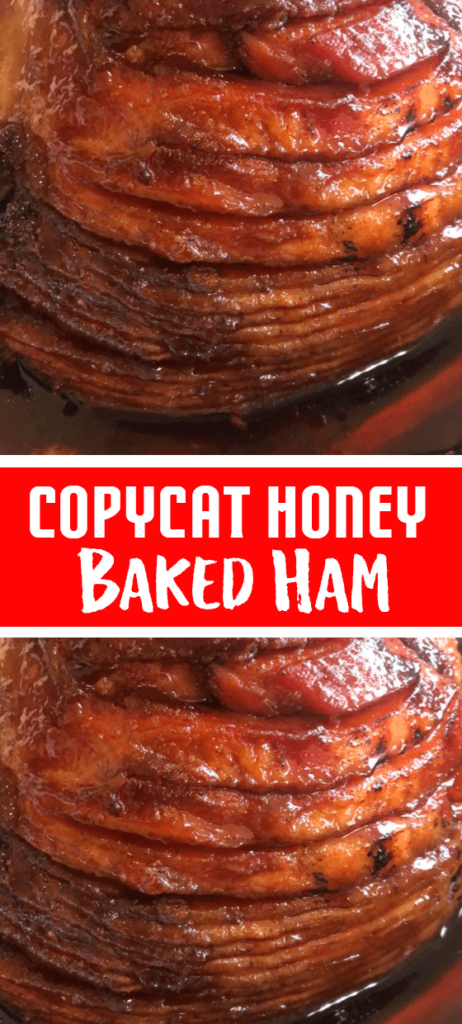 This Honey Baked Ham Copycat is one of our favorite holiday dishes, especially for Thanksgiving and Easter.
At any time of year, baked ham is a timeless classic. Baking a ham, like most other holiday roasts, is simple but requires a great recipe to pull off. Honey, various sugars, cinnamon, and seasoning are used in my Honey Baked Ham dish, which is tasty.
Copycat Honey Baked Ham Recipe
Cooking time
2
hours
10
minutes
Make your own Honey Baked Ham recipe at home and save some money during the holidays!
Ingredients
8 lb spiral cut half ham with bone

2 tbsp melted butter

3 tablespoons honey

1 1/2 cups sugar (granulated)

seasoned salt (1/2 teaspoon)

1 teaspoon onion powder

1 tsp cinnamon powder

1 tsp nutmeg powder

1/4 teaspoon ginger powder

1⁄4 teaspoon of ground cloves

paprika, 1/4 teaspoon

a smidgeon of allspice
Directions
If necessary, trim the ham before placing it in the slow cooker. Massage the melted butter and honey into the ham slices, getting in between the pieces a little. Cook on LOW for 4-5 hours, covered.
Preheat the broiler to HIGH and line a roasting pan with heavy-duty aluminum foil at the conclusion of the cooking time.
In a small bowl, whisk together the sugar, seasoned salt, onion powder, ground cinnamon, ground nutmeg, ground ginger, ground cloves, paprika, and allspice. Half of the sugar mixture should be spread over the ham.
Remove from oven after several minutes of broiling, until bubbly and caramelized.
Add the remaining sugar mixture to a small pot. 3 tablespoons water or ham juices from the slow cooker's bottom
A wonderful option is a mixture of water, ham juice, and bourbon. Bring to a boil, stirring constantly. Remove from heat after about a minute of boiling.

Broil for another minute or two after brushing or pouring glaze over the ham (careful not to let it burn!). Remove the ham from the oven and set it aside to rest for 5-10 minutes.
Warm or cold, serve and enjoy!