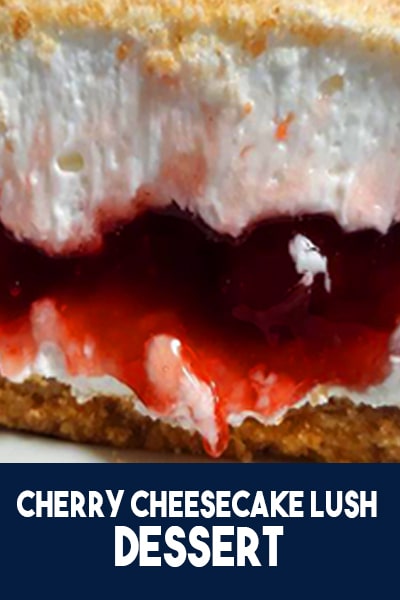 Cherry Cheesecake Lush Dessert mixes the richness of lush with the tastes of cherry cheesecake! The ideal one-pan dessert for the holidays and throughout the year!
This no-bake cherry cheesecake is a simple yet delicious no-bake dessert. This classic dish is delicious thanks to its graham cracker crust, creamy cheesecake filling, and cherry pie filling.
Cherry Cheesecake Lush
Course: Dessert
Cuisine: American
This Cherry Cheesecake Lush dessert is an easy recipe made With layers of cream and cherry, this no-bake Cherry cheesecake is delicious.
Ingredients
1 1/2 cup crushed graham crackers (about 1 package)

melted butter, 6 Tablespoons.

8 oz. softened cream cheese

1/2 cup sugar, granulated

1 teaspoon vanilla 

Whipped Topping (8 oz.)

cherry pie filling (21 oz.)
Directions
Using nonstick frying spray, coat a 9-by-9-inch pan.
In a small bowl, combine the graham crackers and butter. 2 tablespoons are set aside for the top.
In the bottom of the pan, press the graham crackers.
Combine the cream cheese, sugar, and vanilla in a hand mixer and beat until light and frothy.
With a spatula, combine the cool whip and cream cheese.
Cover the crust with half of the cream cheese mixture. Then, on top of the cream cheese, pour the pie filling can.
Finally, gently smooth out the remaining cream cheese on top of the pie filling.
Serve with a sprinkling of graham cracker crumbs.